Hard Shemale Cock!
Yesterday I watched one of my (if not my one) favorites movies. "Gone with the wind". I don't know any other three hours activity that is better than watching that movie. Thing is that in my dreams last night I was Scarlett.  And I wore a big hat and a heavy dress just to hide my Hard Shemale Cock.
Now, I do remember boys chasing me to the river and only one making it to grab me and throw me to the dirt. And this is where he got to pull up my dress and get lost under so much gauze and lace. However,  I thought he would get out and run scared after seeing my anaconda. But rather he stayed there a couple of minutes and I felt a nice rubbing that made me smile mischievously.
I cant recall what happened next because my super hard she-cock started to beat in real life and I woke up just to take it in my hands and gave it so much love that it ended up crying tears of sperm up in my boobs, like in the arms of an embracing mother. Talk about poetry!!!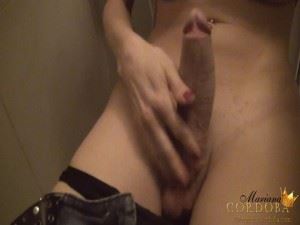 Also guys remember that I have a lot of other posts on this site. You can read about enjoy sample photos. But click through to see the whole set of anything that you like.
See more about my big tranny cock now.