Shemale Erection outdoors!
I know that most of my friends, those who know what I am, want to see me naked and touch me. And some even want me to stick my dick in their asses or pussies. I know because they look at me lasciviously and on more than one occasion they have made jokes about getting to fuck me.  Of course it is always a joke! But you know that jokes for the most part are always true. For those of you that know, Shemale Erection outdoors or indoors can be fun or bad.
This morning we were having lunch at Alfredo's. He is  my neighbor and friend since high school. He is a manly man, a super Argentinian macho, and I felt like putting to the test when I wore this super skinny jeans. Of course after the second bottle of Argentinian wine (the best in the world) and told him I had an erection. And that was embarrassing. However,  I could not help it. So I asked him to please let me use his bathroom to easy it down.
He agreed "Of course Mariana feel free to use the one in my master bedroom" I guessed  I had won. 49 seconds after I walked in  his bathroom he entered. And asked me, begged me if I will let him grab my cock and feel it. But he made me promise I wouldn't tell anyone.
Of course, I promised but because I am a girl, and girls gossip, I am disclosing the event here. And without even coding his  name, hahaha. Furthermore, when he had it in his mouth, he managed to say, in gag language: "Bis if one ell offa cock"…I think he meant This is one hell of a cock.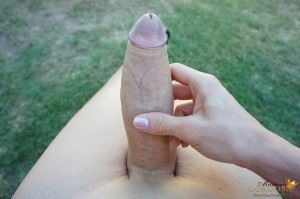 Also remember that I have a lot more Outdoor and indoor erections photos. And that you can sample right here. Just click for more Big Cock photos.