You buttercups are mischievous. You love those stories of me being fucked in the ass hard. They sure do cause a hot Trans girl orgasm.   And me sucking a stiff cock and swallowing all the cum. Don't you? I don't blame you for I love it too, the difference is that I am the protagonist of the stories and because I am such a kiss and tell I always come here to share them with you.
What I mean is I enjoy having this identification with all of you and that you guys support 100% every naughty thing I do. Remember that for the most part I am surrounded but people who do not approve what I am or what I do, so it is lovely to have you there and because of your loyalty I will keep cumming here for you. This is a picture of me masturbating fiercely thinking of you.
Click now and watch more of this Trans girl orgasm scene in the image below.  You will love it for sure.
Truly yours, Mariana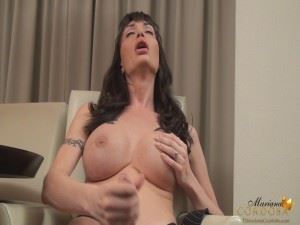 Otherwise you can surf more hot samples of me getting naked and getting off right here on this website.