I cant help it…I love fashion.  And TransGender Fashion is at the top of my list of things. This morning I went to this I had never been in to take my mom to the hair salon and I got lost in this huge store. They had everything from shoes to clothe to accessories, bags, belts, hosiery, scarves, you name it. I usually get bored waiting for my mom to be done so this time I decided to go wander around. Not make you jealous but I liked the guy in the entrance and I walked in. The minute I entered I fell in love with everything they had. It's been a lot time since I like so many things in a single store.
I tried on shoes, jeans, even lingerie (I bought a few sets), but the winner was a black minidress that ripped me off but I ended up buying. It was so nice and I looked gorgeous with it. When I met with my mom again she asked me what was I doing, I said nothing mom, just went to check that store over there, and she goes "Did you buy something?" and I said…well mom, you know me, just this dress (the sets of lingerie were under the dress)..and was it expensive?…no mom, it was not at all…..Are you sure? yes mom….
A few minutes later she felt like having an icecream and I could not invite her because my wallet was empty, then she imagined or knew. LOL So guys if you like to see the new TransGender Fashion photos, click the image below and join me right now.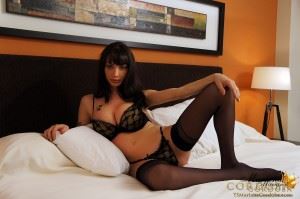 Otherwise you may want to just surf a little more around on this site to see what else gets you hot. Well thats ok with me, because she site is all about me. Click to see some of my Sexy Lingerie.