Hung Horny trans!
Well guys as you can clearly see in the image below I am actually quite hung. If you found this post on a search page and are not certain of who I am, my name is Mariana Cordoba.
I have been called a Hung Horny trans about a billion times and I never ever dispute the fact. First of all I am hung. 13.2 inches to be exact.  But when my cock gets hard it does anything but hang. In fact it stands up pretty well given the weight of it.  And I am also horny.  I love sex.  For me, kissing is a big part of sex and its what usually gets me hot in the first place.
And the kissing brings me to the part about me being a Latina. Everyone kisses everyone and that means that I have to work hard to control myself and my monster cock.  Oh and then there are always the guys that when they give the greeting kiss or good bye one, they brush a hand across the side of my boobs! Wow that makes me horny!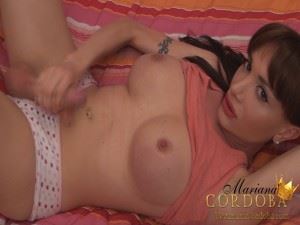 I hope that you enjoy the photo above and want to see more of it. The one in the members area is HUGE! Kind of like my cock.  Wink Wink!
Otherwise if you want to surf around some more on this site for more free samples you can do that as well. However most of the images are small like this one, so I would rather see you happy by clicking and seeing my members area.  Click to see Simply Sexy samples.  🙂