Trans girl in Boots.
All of my fans seem to love seeing a beautiful Trans girl in Boots. So I went shopping and got this pair just for you guys to enjoy!
I have to admit when I first put them on I did not think I would be able to walk in them. But the more I wore them in the store, the more people stared. Then I looked in the mirror and realized why.
First of all the boots as you can see in the photo below go all the way up to my knees. Secondly they also have a high heel. So that made me taller than I normally am. Since I was holding my already short skirt up to see the boots I had not noticed that my panties were showing and I did not have my cock mounted. So it was curled there in the lace.  Oh how I longed to have a camera at that moment.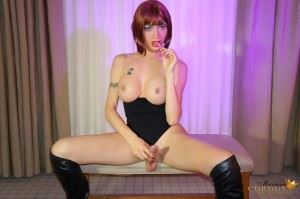 Needless to say I made my purchase so that I could be the Trans girl in Boots. And rushed to the car. By the time I arrived at my car I had 13 inches of cock holding my skirt up.
Now you get to see this free sample of the first photo set in these boots. Click the image and start enjoying it right now.
For those of you who want to check out a few more sample photos of me, I have a ton of them available here on this blog. The price I ask is that you make comments about them.
Check out more of my Big cock sample photos.