Shemale dildo and masturbation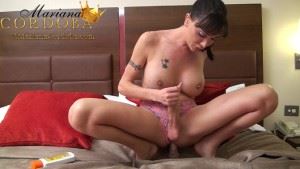 Shemale dildo and masturbation! I'm usually more into hardcore sex than using dildos but a fan sent me this awesome vibrator as a "congratulations on your new site" gift, and I was itching to try it. So I just reclined myself on my bed, and after getting myself in the mood by stroking my cock, I gently pushed the vibrator (which is not little) all the way into my ass, and sat on it, to keep it from sliding out.
Oh how I now love Shemale dildo and masturbation!!!  And OH MY GOSH, that thing felt awesome vibrating inside my ass! It gave me one of the best orgasms I've had in a long time, and it squeezed to the last drop of cum out of my balls. The cumshot was quite messy but the feeling of that big vibrator inside me was well worth the cleaning job!
This is a must see video and you do not want to miss it. So right now, click on one of the text links so you can see the movie the photo was taken from. I promise its super hot!
Otherwise you can also surf around this site for more free samples. But like this image above they are lower quality than what you get in the members area. More of My Big tranny tits can be found at this link!