Fucked Doggy Style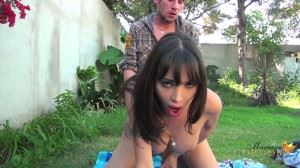 This week was a busy week and wow, my cock is sore from so much action 😉 Check out the latest additions to my members area!
So I have this gardner that comes one time a week and he always flirts with me. I was not sure weather he knew I was trans or not. But that day he found out! So anyway he came as usual on Tuesday and knocked on the door. I was wearing a short robe but it covered my cock. When I saw him through the window I opened the top enough to share a hot cleavage shot!  He said he was in and working and I replied no but you will be!
He went to work and so did I. I grabbed up a blanket and took it outback. Laid it out on the ground and made it look like I was going to get some sun. Then while he was watching me, I dropped my robe to reveal 13 inches of cock waiting for him.  I saw his surprised look. Then I knelt down, put some lube on my ass hole and waited with my head down and ass up! I did not wait long and I felt his cock sliding between my cheeks and penetrating my hole.  It was time to get Fucked Doggy Style!
Click now to watch the movie and see how hard he fucks me. Then watch as I turn the tables on him and work his ass with my cock!
Otherwise you can surf some more free samples right here on this site. See my big tranny titties!