Well she is a PornStar Trannys just like me. In fact I think she has a bigger name in the industry than I do. But she does NOT have a bigger cock. As you can clearly see in the image below, she does Love my cock! Well most men and women love my cock and Trannys can never get enough of it. Anyway this pornstar is none other than the famous Ana Mancini! Thats right we did a couple of scenes together before she retired and I have them in my members area. Join right now to see them!
Ana Mancini is a lover of big cocks and hot trannys! Her beieng one of the most amazing tranny pornstars on the web, makes it even more fun to watch her in action in the movies in my site. Since her website is now closed mine is the only place to see these amazing videos of the two of us PornStar trannys in action!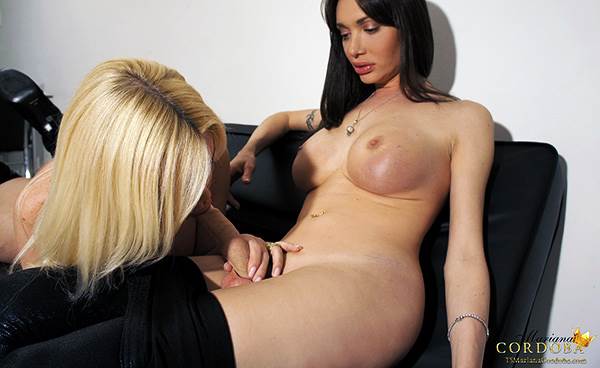 Ana Mancini and Maraina Cordoba. The pornstar tranny duo that breaks all the tranny movie records. We have the biggest tits. We have the biggest cocks. And we are two of the most attractive and famous pornstar trannys on the internet today.
Check out the video that this shot comes from and watch Ana Mancini take my cock into her mouth. Work it up and down with plenty of head bobbin action! Her blonde hair moving with hands playing in it as well as my cock growing harder by the second. Watching her cock wiggle between her legs while her head bobbed on my cock! Wow that made my balls ache to shoot my tranny load on her face!
The video is hot, the photos hotter and easier to masturbate to. Come in and check them both out and let me know what you think. Dont forget to leave me some comments here on the blog as well as in the website. Let me know we turned you on!