Well. You guys kept asking for photos of Trannys in bikinis so here they are! Well ok its just one photo and its a photo of me in a bikini but Im a tranny and Im wearing a bikini in the photo so I just know your going to love it. Right? I mean you do love this bikini shot? Leave me some comments guys about Trannys in bikinis so I know how you feel.
As sexy bikini for a tranny can be hard to come by because the bottom of the bikini has to be able to cover her tranny cock. If you notice in the photo below as sexy as this bikini bottom is, it hardly covers my big cock and balls. Once I got my cock and balls tucked in the bottoms looked nice I think. If you like them let me know.
I also found the top to be rather sexy in the way that it covered by big tranny boobs! The little triangles of cloth left plenty of skin out but covered my nipples so there was plenty to imagine as well!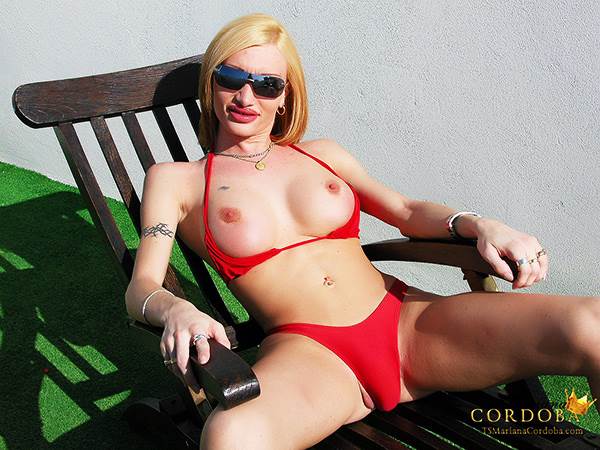 In the next photo in this set, I am showing a lot more skin. In fact in some of them I have my big cock laying across my leg and you can see its not hard. Just a perfect tube of tranny cock waiting for someone to stroke it to life. Are you the man for that? Do you want to caress my big cock until its rock hard and standing straight up? Or do you just want to get behind me and pound my ass with your cock while mine swings below? If you want to do these things with me let me know. Post some comments here and also in the members area of my website. Tell me about it in detail. Tell me about Trannys in bikinis!
Join the site today and dont miss out on my photos and videos. I know you will love all of them and you will come and cum back time and again to see them over and over.