Mariana Cordoba's eyes!
When it comes down to seeing some of the most beautiful Trans women online, you always have to think of Mariana Cordoba. And when you think of her you also think of Mariana Cordoba's eyes!
Her eyes are a beautiful brown flecked with gold. When she has on make up like in the image below you just want to stare deep into them. And especially if she is on top of you!
And can you just imagine the feel of those sensual lips of hers? Soft and warm caressing your body. Sucking your cock into her mouth only to work your pole with her deep throat!
Could this be the woman if your dreams? Yes of course she is and especially if you are into women with huge cocks. And by huge I mean more than 13 inches long! OMG
You are invited to check her out..click here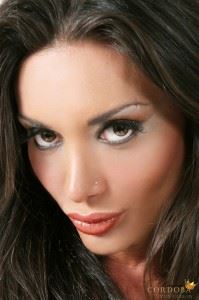 For those of you who wish to check out a few more super hot photos of Mariana you can do so right here on her blog. These photos are lower quality and also smaller in size that what is in her members area.  See more of this Simply Sexy woman.