Shemale in sexy white panties!
Good day guys. I got a few new gifts this year and I wanted to combine two of my favorite ones and this is based on how they fit.  To start I got this beautiful pair of white panties and its the reason for the name of the set. Shemale in sexy white panties!  Then I received the second package and it had this amazing and sheer night dress.
Now I have to admit I don't know why its called a night dress other than that's the time to put it on. Because every time I put it on it always seems to end up on the floor next to the bed. And I always have an erection. Now I will admit that there is the chance this happens because I almost always go to bed with someone else. And more often than not I end up have a night of super hard sex. So that could be the reason.
If you like the combination of the panties and night dress in the image below, then you need to see the rest of this set. Click the image or one of the text links above to see more right now.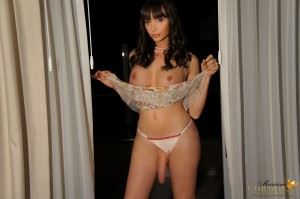 Otherwise if you want to surf a few more free samples of me and my sexy clothes and body you can do that right here. Check out more of my tits and ass.