Mariana Cordoba in boots! This is Most definitely not a puss in boots! More like a Monster COCK in boots!
When I was little I remember looking at shoe catalogs and loving every boot in it. For me, I always thought that they looked so sexy and sensual. I would say it out loud…I love these boots!! and my parents would run to the shoe store to buy me boots. Of course they did not know that I was actually screaming for womens boots. 😉
The name of the set is Mariana Cordoba in boots. And I know you will love it. I know you love all the sets I make. So sit back. Get your cock out and lets have some fun!
Now I am addicted to boots. And the combination of sexy lingerie and "up to the knees" boots is just fabulous.  Spice up your life with a hot pair of boots on your favorite trans girl. You will see instantly what I mean. Otherwise you can just look at the sample photo of me below to get a great idea of how hot they are.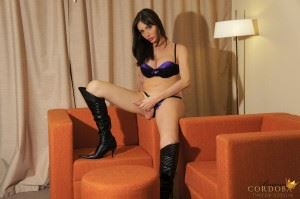 Furthermore if you guys want to see some of the amazing lingerie and other photo sets I have. Just click this text link. Mariana in Lingerie.