Hung Diva Mariana Cordoba!
I am a great combination of a glamorous and naughty Diva. My Diva's closet offers a fabulous selection of sexy outfits mostly composed by a bunch of sexy and luxurious lingerie.  My wardrobe also includes pashmina scarves, hosiery (fishnet-like ones) elegant and beautiful dresses, and expensive coats. The shoe department is enviable. I have many boots, high heels, wedges, pumps, sandals, snickers….you name it. I am the first and most important Hung Diva Mariana Cordoba.
Shopping for fine clothe is something I really enjoy. I do it very often. I don't know a better cure to boredom or stress that going to the exclusive malls I love so much. I always tell my mom that I am going window shopping but is inevitable that I buy a little anything or a big something.  I'd rather buy the BIG SOMETHING.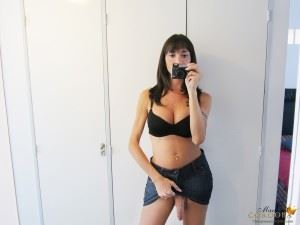 Not everyone sees me as the perfect Hung Diva Mariana Cordoba. But I am. The one and only. If you want to see more and you already know you do. Then click the image above and join me. Make sure to rate and comment on all my photo sets. Also make sure to do the same for the movies.
For those of you who wish to check out a few more samples from my members area, you can click here to get some hot panty shots.