Mariana Cordoba Hot bubble bath!
Its been a long long week and I needed a way to relax.  When I was surfing online for ideas how, a hot bubble bath was one of the top ideas. That was of course until I found some other naughty ideas.
So I decided to mix a few and share them with you. Take a look below at the image. Its called. Mariana Cordoba Hot bubble bath. And its also a hot masturbation scene. You will love it I promise and by the end of the photo set and also the movie, you will be very relaxed if not a little sticky!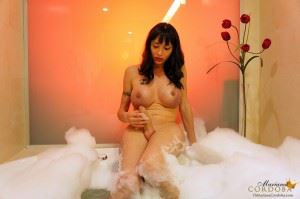 For those of you who would like to join me, I think its time you clicked on one of the text links. Or you can simply click on the image above. That will take you to my website and you can join me right there.
Otherwise you can surf some more samples of me right here on the blog. There are tons of photos and movie clips for you to enjoy. All of them about my big tits or big cock.