Hard Trans cock outdoors!
Well, every girl has to do laundry doesn't she? And her Hard Trans cock outdoors is part of the laundry. Mariana just wants your help getting it where it needs to be.  Also what every girl does not have is a huge cock like hers which she will also air out to a playful moment with her  just washed laundry.
To be outdoors and naked or at least partially so has always been a fun thing for most trans girls. Its very freeing and they feel like they can be themselves. Also being able to get off out doors adds to the fun of it. Having their cock out, hard and playing with it. Even if others are around watching them. Its a turn on and the girls adore it. Mariana has never been any different even if she is a big more hung. So enjoy this Hard trans cock outdoors photo set and then watch the movie.
Check her shecock getting aired out, click here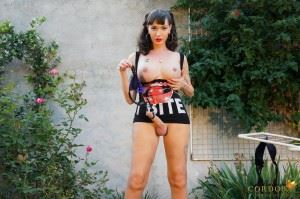 You are ready right now to see more of those big tits and huge cock.
However the very best thing you can do is simply get into the members area. No more wasting time chasing images or clips that are smaller than the ones in the private area.