Long legs and Heels on Mariana Cordoba! Either those are the longest tranny legs I have seen in a while or Im just losing my mind! ! Or Mariana's huge cock makes them look like long legs! Since I am sure they are just long, I have to ask you guys if you want them wrapped around your head?
Check out the image below and imagine those legs pushing your head down on her massive cock! Click here now to see more!
Can you just imagine kneeling down in front of Mariana. She is holding her cock up in this same position inviting you to lick her ass hole, suck on her balls. Then take the head of her cock between your lips and stroke it with your throat? Then you stand up and remove your pants. Put as much spit on the head of her cock and squat down on it. Feeling the head penetrate your hole. Your own cock starts to grow hard from the mixed intense pleasure and pain.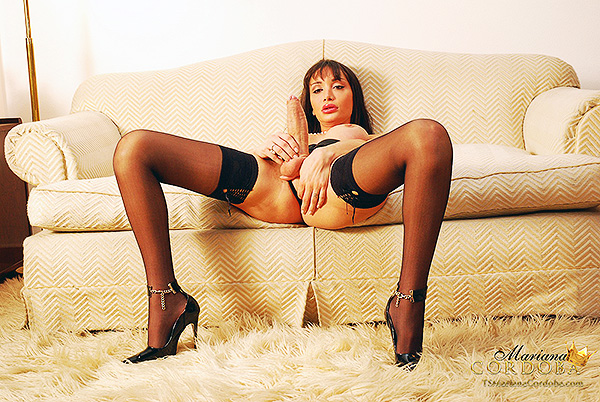 Also to see the videos you need a membership. Click here now to get that!
Or you can surf around here on the blog and see more sample photos and also videos!
Right now you can Enjoy and rate and also comment on the blog and members area!