TS Mariana kissing TS Ana Mancini
Tranny friends Ana and Mariana Cordoba having some fun on a visit.  Mariana thinks that  She is so pretty. She thinks Mariana is pretty too and loves her meaty lips, so after talking and catching up with their lives they ended up…kissing.
WOW, they are both great kissers and had so much fun with their lips locked together.
And they also got a bit naked and there was touching and sucking. They sucked each others lips and then moved down to sucking on each others tits. From there Ana went all the way down and sucked in Mariana's really huge cock.  We really hope you enjoy this photo of TS Mariana kissing TS Ana Mancini! And we also hope that you will come and see the rest of this photo set. Also come and see the movie! Yes there is a movie with action! And that is the most important part of this post.
Do NOT miss out on seeing the movies. This is hot to have two superstars together.
You dont want to miss these pictures of Ana and Mariana. You'll love them. Click here to see them all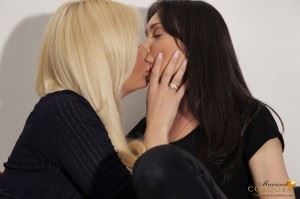 Further more if you want to see more of just Mariana, click to see me and her big tranny cock!