Want to check out the photos of the hottest Curvy Hung Trans girl? Of course you do so all you need to do right now is scroll down. Mariana is the babe we are talking about and as you can see her body meets our description. Curvy Hung Trans girl! Now this photo is a part of a selfie set that Mariana did in the bathroom. She was just having some fun and decided to make her cock partially hard and then snap some photos. She ended up making a really great photo set and she looks stunning in them.
With her hair up like in this photo, don't you just want to kiss and caress her neck? Maybe walk up behind her and run your hands up her hips. Cup her big tranny tits from behind and also softly stroke her tight ass. Most likely as you walked up behind her naked body your own cock would start to stiffen. So as you get close lift the head and point it right at her tight tranny ass. And slide it in gently as you begin to caress her. Make sure to be soft and slow in the motion. Do not rush things. Then reach around her and take a hold of her cock and begin to slowly stroke her as you pump in and out of her tight tranny ass.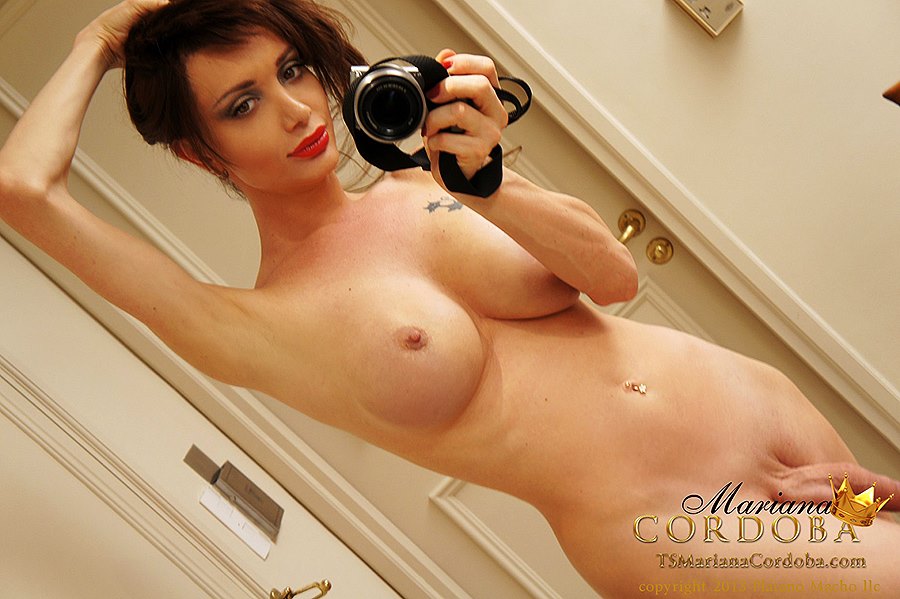 It is time for you to enjoy more of this Curvy Hung Trans girl. Simply click the image or a text link.