Anyone else up for checking out a hot and thick long tranny cock? Hands up please?? Yessss. Ok so lets take a look. Below we have another photo of Mariana, and the way she is sitting and holding her hands it is really hard to believe that you can see so much of her tranny cock. It is one more proof. Just think about this thick long tranny cock and exactly how long it has to be for this photo. Yes that is correct. 12.7 inches to be exact. That means there is more than enough love rod to penetrate a mans ass and make it nice and sore. It is also very big around. The term Gerth comes to mind.
I have no idea why Mariana got hard while cleaning the kitchen. Maybe it was because she was half naked and that massive cock of hers kept bumping into things. As it thickens it starts to build the ache in her body that needs to be relieved. And the only way to do that is masturbating that massive love pole. So click on the image below and check out this photo set in Mariana's members area. Its hot.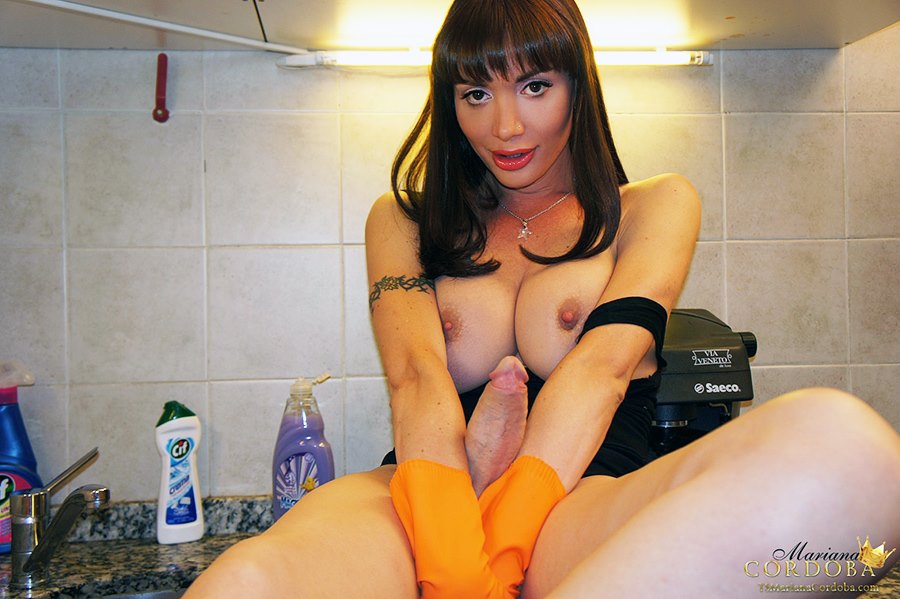 Oh yeah and check out those amazing big tranny tits along with that thick long tranny cock!