Check out this Trans girl lace panties set. Super hot if you ask me. And yeah that beauty is Mariana Cordoba. Her lace panties are not quite able to hide her big cock. And how sexy that looks. So what do you imagine got her cock this hard? It's standing up to its full size and looks amazing. Sticking the head of her cock out the top of the lace panties. Ufff so horny now!
If you like the look of a trans girl lace panties photo then maybe its time you bought your trans girl a nice set of panties like this. For Mariana no matter the size its always some sort of cock issue. Trans girl lace panties are essentially the same as any other girl. However the trans girl has to hide her cock. And hiding this cock is not very easy.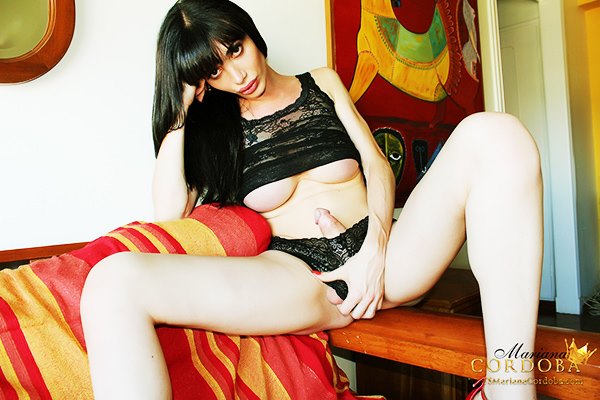 Not to mention that Marian Cordoba also has a nice set of balls on her. You can actually see them in her hand there right on the side of her panties. So sexy. Her skin is creamy white and she looks amazing with the head and 2 inches of cock peeking out the top of her panties. Then with her balls bursting out on the sides is just almost too much to handle.