Thick long she-cock!  I would say I have a stubborn she-cock. She get hard on her own and demands attention. This morning I was watching TV laying on my bed while chewing some cherries and I uncovered my body just to find a tremendous erection right there between my legs. It was so comical, I swear I wasn't watching nothing "R" or having any naughty thought but my cock got so hard that it hurt so I gave it the care she was craving.
I grabbed her hard with my right hand while with the left I rubbed the surroundings and it gave me very much pleasure. I only had to stroke a few times to deliver a nice, relieving shot of creamy cum that ended up on my belly and some got to the plate of cherries. Is someone up for some fruits? LOL. I felt better after that and guess what? A few minutes after she was again rockhard. WTF? no way sweetie, you are up to something and I dont have the energy to tag alone, so be quite and let me watch my program!! I still gave her some love and caress.
So come now and enjoy this photo set of Thick long she-cock. You will love it.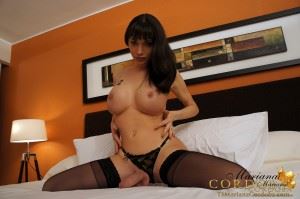 Otherwise you can surf more samples of me on this site right here. Check out my Big tits.