Trans on hands and knees!
I recently did a video in which I got on my hands and knees to get pounded by a gal. Therefore I have to be honest…I loved it!!! Although you can check it out yourself in my webpage I can advance you that I had a great time filming it. Trans on hands and knees does not compare to anything to have sex and being fucked in my smooth asshole. It is pink and soft and it is wet for the most part. Let alone my happy cock, great in its role. It was not just acting, it felt really nice to exchange that sex moment, to be a woman and give the back to a man. This type of interaction nurtures my womanhood like it does lingerie and high heels.
In  a future I will be letting you now what I like in bed and what I do not so you know whether you qualify to be my lover. I just hope that you modify your ways to fit my likings, and you will know heaven.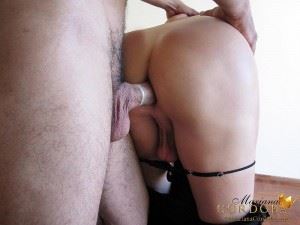 Do not miss out on the chance to enjoy this hardcore movie. Also make sure to check out the photo set from it as well.
Otherwise you can surf around for more samples of this huge cock and ass getting fucked!