Hot wet Trans Mariana Cordoba! Using a jacuzzi moves bathing to an upper level. It's not only about cleaning yourself, it's everything that goes around it. For starters, you cant be in a rush. You need to have time to enjoy the bubbles, the vibrating water caressing your skin. In this case Mariana was by herself but she missed having someone with her
It's the movement, the heat, the space that makes you want company.   Having the pictures taken of her in the jacuzzi. Look how her naked body was all relaxed at the beginning of the shooting but gradually that huge shecock began to inflame and got cast in iron right away. She wanted to have someone to lick it and suck it until erupted with hot cum but instead she had to just be there and pose naked and sensual for her fans. And now you know the reason for the title Hot wet trans Mariana Cordoba.
Don't you dream of being with her in this jacuzzi and be the person she longed to be there with herto do all those dirty things to her hard dick? We bet you'd love that.
Don't leave anything to your imagination, click here to see the full session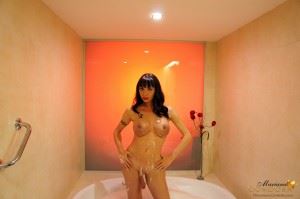 For more hot samples and also to check out some video clips surf around on this site. Or click for more tranny tits and ass!