Hot Blonde Tranny Blowjob! Ana Mancini sucking Mariana Cordobas cock. Bloody hell how hot is that?
First of all that is Ana Mancini and Mariana Cordoba in the photo. Two world famous Tranny girls with big cocks, big tits, tight assess and a huge desire for sex. Second, they are also the hottest tranny girls on the planet.
This Hot blonde tranny blowjob scene will prove it to you like you can not imagine. If your not sure which is which, that kinda means you are new to trans girls. The Blonde is Ana Mancini. The brunette with the enormous cock is Mariana Cordoba.  Both are pornstars in their own right and both are beautiful. If you have a love for the hottest girls that can be found you have just seen a sample of a set of the Number 1 and 2 on the planet!
By the way this is also part of a video so you might want to check it out today. The movie is so much hotter than the sample photos. You will be very upset if you miss out on seeing this. Can you deal with not watching this movie? Click now!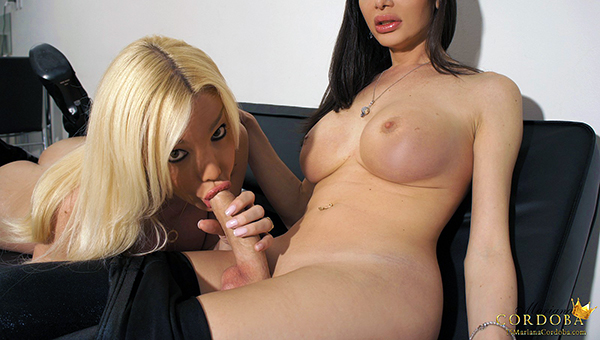 If you have not watched this video before its time to do so right now. Click and join the members area instantly!
Get off with this hot sexy blonde tranny blowjob video and also the tons of other things in the site.