Who else likes a hardcore threesome. Especially when it involves the two amazing trans porn stars Mariana Cordoba and Angeles Cid? Yeah I guessed it. Everyone likes a hardcore threesome and that is what you are about to see a sample of.
This guy was a big fan of both girls and some how managed to catch them both in the same city at the same time. So the girls decided that a hardcore threesome was going to be what he got. Now we have to admit that this guy took it all like a champ and he was facing down about 8 pounds of trans girl cock between the two of them. But both Mariana Cordoba and Angeles Cid said they loved the attention he gave them.
Check out this screen cap from the movie. Then below is a small clip of some of the action. The whole movie is only in the members area of Mariana Cordoba's website and not matter what you really need to see it. Lots and lots of action in this one.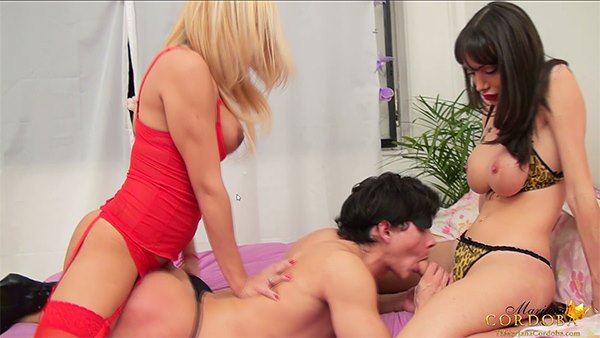 In all honesty this is a video that you need to see. Its hot and the action is great. In fact Angeles fist fucks the guys ass to get him ready for her huge tranny cock. Click right now to watch!