Busty trans in black corset!
Are you the kind of man that likes to see a hot woman in Lingerie? How about a Busty trans in black corset? Is that a bit of a turn on for you? In this set as you can see in the sample below, Mariana has on not only the corset that frames her tits perfectly. But she also has on a sexy pair of panties. And those stockings look amazing on her legs.
But if you are anything like me, and most men, the only real thing you can see in this photo is her erection. Even if that cock were not erect you would be staring because of its size! Being just over 13 inches long its perfect for any man to play with.
Dont miss out from all the fun in this website. You will love all the pictures and videos of Mariana behaving naughtily, naked, wearing lingerie and boots, and slaving her lovers.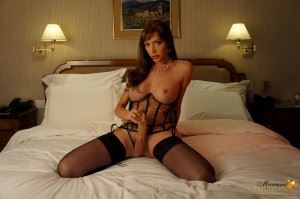 If you want to see some other hot samples of Mariana and this amazing trans cock. Then click on this link. More of Mariana's Big cock.