Well we all know that there is nothing hotter than a Trans woman in lingerie. I mean really just take a peek at the beauty below. Yes that is correct my friend that is the super star Mariana Cordoba showing off why she is a star! For those of you who came to this blog because its bookmarked we appreciate your visit. For those of you who found this post in Google or Yahoo or another Search engine we also appreciate your visit and hope that you book mark this site. Now let me get back to the Lingerie.
So yeah this is Mariana Cordoba and she looks so hot as a Trans woman in lingerie. I mean that the linger is the same as you might buy for a regular girl but it just looks so much better on a body like this. Then when the cock gets freed from the panties it looks ever better. For those of you that dont know that is 13.2 inches of Trans cock sitting there. The reason Mariana is almost hard? Because the lingerie was a gift from a fan and she was fantasising about meeting him. John told her her is versatile and she could not wait to get into his pants. Hint!! The video is in the members area.
So click the image right now to see more of this hot babe in lingerie. Or almost in lingerie! Dont you think you will regret not seeing more? Click now.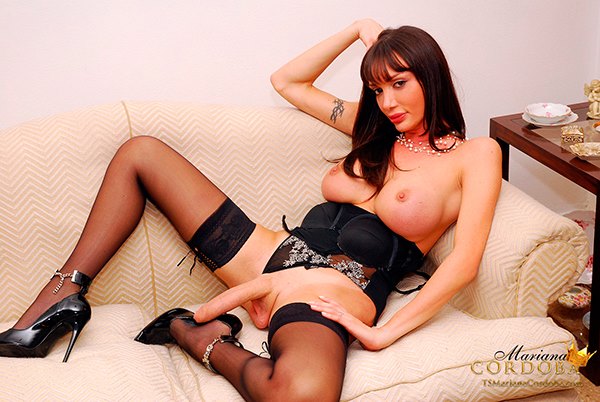 Please take a few moments and scroll down and post some nice comments about Mariana. Everyone loves to read them.