SheMale Bikini! What makes it a Shemale Bikini? To our knowledge, just the shamele inside it! And the one in the photo below is the Queen or King of all shemales in bikinis! So Shemales Bikinis. Do they exist or is something pulling our? Legs? Either they do, or they don't. If someone has more info we would love to know. Also make sure to just say hi!
Maybe if your in her area we can go shopping for a Shemale Bikini together? Its always so much more fun to try them on and show them off! Or at least show off her curves!
While Mariana loves a nice bikini for the sun she also loves to get naked outdoors and tan. How about you? Do you love to be naked outdoors as well? Send us some messages and let us know. we would love to share then, also hear what you have to say. Now, take a look at the photo below and let us know what you think. Also let us know how it makes you feel to see a body like this! Does it properly turn you on?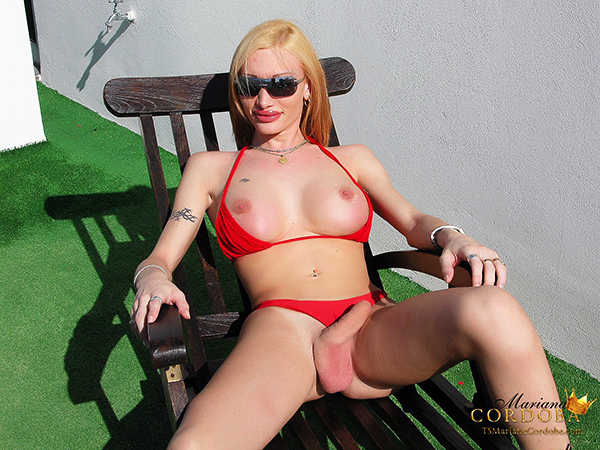 Also please while looking at this photo, do you see anything that needs some work. This body always likes to be touched and used so let her know what you think.  A nice tan would be good. 🙂
The members area of the website has the rest of the photos from this set and also a LOT more. Videos as well and they are also in HD. Your going to love stroking to them.
Join today and make sure to comment in the members area as well as here on the blog.
Please also let us know what other photo samples you want posted here. We will see what we can do for you.
See older blog posts on this site here!