Hung trans in pantyhose. Yeah this is it! This is one of those photos that is going to make your cock hard. Why you ask? Simple. This hung trans in pantyhose is none other than Mariana Cordoba. The super star of hung trans girls and she is showing off everything in this photo set and its simply sexy.
Can you imagine coming home to find this waiting for you? Imagine walking in the door. Standing in the living room. Wearing an all black outfit. High heels and polka dot pantyhose that are partially covered by her skirt. Big titties tucked inside the top but plenty of cleavage spilling out. Beautiful hair cascading over her shoulder and pouty lips painted the perfect color.
She slowly strips off the top and her big trans girl tits pop out. You of course are helping so you suck one of her nipples into your mouth. Then you move up and kiss her soft full lips. Once she drops her skirt she lays back. Now you can see that your efforts have begun to pay off. Her cock is down the leg of her pantyhose and its getting harder by the minute. She lifts that leg and her cock is standing straight up by her thigh.
Click on the image below to watch some of this fantasy playout for you.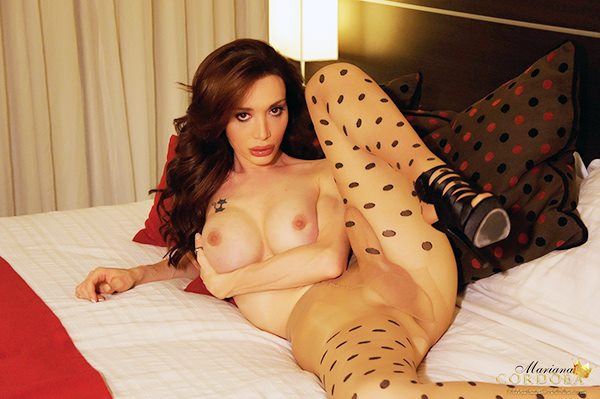 And now you know whats so hot about a Hung trans in pantyhose.