Hardcore anal fuck.
I was in the kitchen carving the chicken, minding my own business. Ok I was wearing nothing but an apron and flip flops because it was so hot. That was when I felt a grab on the back of my neck. One hand brought me roughly against his body and meanwhile the other one, resting firmly in my neck, dragged me to the couch. Then, I decided not to scream. However, I could not anyways for a knot was formed in my vocal cords. I had no idea what was going to happen. But now I look back and I secretly believe I hoped for a Hardcore anal fuck!
I was expectant and uncertain when those hands untied my apron from behind. Then started rubbing my buttocks rather soft. I couldn't avoid moaning a bit which made the visitor quite exited. He expedited the slipping down of his pants. I immediately felt the Vaseline around my anus and the adjustment of a condom and Bang!
The cobra was inside of me  (I helped a little), in my very asshole, tenderly at first, fiercely after. Something very hot happened inside of my ass and before I could turn, the visitor evaporated. He left a note behind: "With love, from a fan"….  Go figure.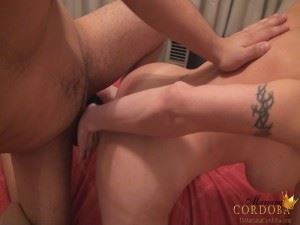 Also guys. Please keep in mind that there are a lot of other sample photos. And  also a lot of sample movies here. Just click to see more. Me, hot naked and hard.